WELCOME TO THE CHARACTER
SECTION!
(This section is also under construction.)

I would like to introduce some of the characters of my project:
NEW: Mr. Bunny. A side character of the Theme Planet shortfilm.
(See also in the Gallery section)
Mr. Weasel, one of Theme Planets layers, his job is to avoid lawsuits against
The themepark, especially after Pig and Elephant once again failed in there attempt to
rapair something... To reach every location quickly he gets abseiled from a zeppelin,
thats why he sits in this special seat.
:
PIG! One of the main characters . Together with Elephant he works as technican worker (class3) on Theme Planet.
Elephant: Pig's trusty assistant, always happy, always relaxed, a little bit simply minded but a nice fellow...
Igor : The humble assistant of Mad Constructor.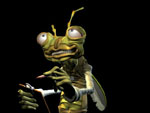 Frog: He will appear from time to time in the Film...He has just one goal in life, he wants to catch a fly for lunch...but this will not be easy...
Park Visitors:...In Progress...
Roller Coaster Operator:
COMING SOON: A lot of further characters...like the Bad Tempered Guerrilla , Fun Police or thechef of Pig and Elphant's favourite bar...