.
............
.Welcome to my dedicated Theme Planet Homepage!
Here you can find various informations about the project.

Please do NOT use any pictures or animations from this page
for private or commercial purposes, without my permission.
....Hope you like it...

News:
In the moment I am working on the script for Theme Planet so there
is not much to show recently. I hope i can upload something new Theme Planet related
soon.
-------
I worked several month on a Theme Planet based shortfilm for the SIGgraph
presentation at the Autodesk booth in San Diego. I also prepared some of the assets
used to present the new Maya version.
Here are the links to the animations:
On the left you find a link to the original Shortfim on Youtube, with archived more then 2 million clicks there :)
The right link is a newer version of the Shortfilm, now in higher resolution.
Here some photos of me at the Autodesk Siggraph booth :).



In the back you see Pig and Elephants garage (a Theme Planet environment) during a presentation .
5.12.2006:
I completed a new character, it's Mr. Bunny, he is a side character of my animation...
(Character Section, Gallery Section)
I also uploaded a little TESTANIMATION
9.9.2006:
An interview about me and Theme Planet has been published.
http://www.escardo.com/charanim
1.08.2006:
A new character is now completed. His name is Mr. Weasel and he is one of the many lawyers of Theme Planet.
(Character Section)
29.07.2006:
An article about 3d modelling has been published in the swiss magazine "Heute"
using some of my images to illustrate it. (Theme Planet Info section)
10.01.2006:
I rendered the first images of Pig and Elephants headquater:

20.09.2005:
The picture of Mad Constructor has been selected to be featured in the D-Artiste/ Character modeling
book of Ballistic Publishing.
Michael ... Happy again :)
10.05.2005:
The picture of the T.P. Barracuda was selected to be published in the new
Expose3 Book by Ballistic publishing. In addition it received a Master award what makes
me very happy. ( Info Section)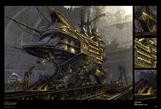 22.01.2005:
Some new screenshots of the shortfilm in progress.
(Gallery Section).
02.01.2005:
Added a larger version of the T.P.Barracuda rendering, useable as a wallpaper.
(Gallery Section).
22.12.2004:
A new 3D Animation book came out recently, using Theme Planet images
as cover artwork and illustrations (Info Section).
10.10.2004:
Added a rendering of the Roller Coaster Operator Office to the gallery section.
27.06.2004:
Fixed the broken frog anim link( more in the animations section):

25.06.2004:
A first pic of the TP Barracuda ( more in the gallery section):
A new picture of tourists racing along the rollercoaster track:
Sorry for not updating this Homepage fore quite a while, but in the moment I work very hard on the Story of the whole
Project so I don't have much time...but anyway here is a a littel Pic I did meanwhile for a french movie magazine:
29.10.2003:
Added a picture of an article at cgChina featuring Theme Planet:

12..10..2003:
Added two new Pictures:A bigger version of The LogoPicture and Another rendereing of Pig and Elephant in their buggy (Gallery section).


25..9..2003:
Added new Character: It's the Roller Coaster Operator (Character section)

1.9..2003:
Added first Rendering for the Park Visitors:(Character section)

25.6.2003:
Added first Concept art for the Park Visitors:(Characters section)
7.6.2003:
New Picture in the Gallery! Theme Planet by night!


4.6.2003:
Uploaded a new version of the Body Enlargement Robot walk anim
(Animation section). My friend Georg Heinz made sound FX for it.
Thanks Georg ! :)
1.6.2003:
Uploaded a new picture of the skyline of Theme Planet (Gallery section)
15.5.2003:A article about Sormann3d and Theme Planet was
published in the: "Journal of Computer Graphics".(Info Section)
30.4.2003 : New Picture in the Gallery!..Mad Constructor,
discussing his insane plans with his humble assistant Igor.. :)
Additionally I added concept art for the outside world...
18.4.2003 : Uploaded first version of the homepage.